You're about to enter a new evolution of penis pumps. The Bathmate HydroMax x30 offers 35% more power, and it's billed as the best water pump of all time. This is a claim that we are proud to put our name behind.
When it comes to water based pumps, there's the Hydromax x30, and then there's the rest.

The X30 is in a class all its own. You won't find another penis pump with this level of quality, benefits and water usage.
What Makes the HydroMax x30 the Best Water Penis Pump?
So, what's behind all the hype? After being less than impressed with most penile pump products, that's what I wanted to know.
The Bathmate x30 comes equipped with a new valve and bellows pump.
Why does that matter? Power.
You see, a simple bellows and valve change has allowed the x30 to pack 35% more power than the leading hydro pump.
And if you've tried and liked the original Hercules model, this product will blow you away.
It's safer. It's more comfortable. It's exactly what users have asked for, but it took Bathmate many years of development to bring this level of quality to life.
You really need to understand the build quality to get why the x30 works so well.
When choosing this pump, you're choosing a model that includes the following features that are new:
Bellows pump.
A bellows pump is created with all new material.New materials are added into the mix to make a bellows that's stronger, more durable and adds additional flexibility to the pump.How do you benefit from this?Well, you'll be able to create a higher level of suction with less effort. Comfort has been added with the reduction of convolutes and an increased bellow size.
Comfort pad.
A tighter, more comfortable seal is what a comfort pad has to offer.Comfort pads are super soft pads that offer a tighter seal that fits against the body and offers a soft-touch outer edge.The comfort pad provides a shield around your penis, and they're removable so that they can be cleaned and disinfected with ease.
Latch valve. A superflow latch valve has been incorporated into the design of the Bathmate x30.Engineers claim this is the most significant change, and this is because the latch valve is responsible for preventing water from escaping when filling up the x30.The latch allows for one-hand filling. Pressure is also held longer thanks to the valve, and the slow pressure release ensures that you never over-pump.
Measuring guide. The measuring guide does not You'll find that the measuring guide, which offers a clear design on the front of the device, has been redesigned to include both imperial and metric measurements.Why does this matter?You'll have complete control over your penile exercise, so you'll be ready to achieve your "best you."
And, there's also the option to upgrade to a higher package that includes a few additional extras:
Towel
Shower strap
Cleaning brush
Bathmate clean
Capsule case
Measuring gauge
Bathmate isn't a fly-by-night company, and they offer the highest quality product in the industry. You'll receive a product that offers:
Skin-safe approval
Patented technology
2-year warranty
Completely safe to use, this hydro pump offers improved erections, and an increase in penile well-being and health.
When you use the Bathmate Hydropump, you can be confident that this pump is:
Skin-safe
Made with medical grade materials
Phthalate-free
Aspen Clinical Research has conducted a study on the x30 and found that the product is safe for use on the genital area.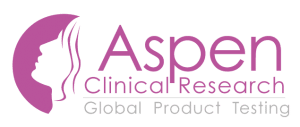 It doesn't get any better than this.
You can be confident that your Hydromax x30 is going to increase your penile girth and length – quickly.
It's taking penis enhancement to an entirely new level.
Bathmate Before and After Results
Bathmate x30 is all about results. Just check out these before and after pictures to see how well this product works:
As the name suggests, the Hydromax x30 can be used with water – it's preferred.
When willing with water, you'll be able to benefit from the strongest level of suction. A strong suction level means that the seal is stronger, the pressure is stronger and the results will be better, too.
Can You Use Bathmate Without Water?
Yes. You can absolutely use the Bathmate x30 without any water at all. You'll need to perform the same routine as outlined below, but you won't add any water. Now, the biggest question is why are you not using water?
Water will make the seal stronger and the Bathmate x30 more comfortable.
How to Use Your Bathmate x30
If you've opened up your Bathmate x30, you know that it's a little complicated to get started, especially if you're using a penis pump for the first time. You're not entirely sure what you're supposed to do, and this is 100% natural.
Now, before we go any further, there are a few precautions that you need to adhere to before you start using the x30:
Consult with your doctor if you have any of the following:

Heart disease
Lung disease
High blood pressure
Diabetes
Sickle cell anemia
Epilepsy
Lack of genital sensation

You never want to use your x30 for longer than 15 – 20 minutes. If you do use the device longer than this, you'll be at risk of bruising.
Only perform one session per day
Do not sleep with the product
Once you're sure that you understand the risks and precautions of the x30, it's time to start learning how to use the pump. You can use the pump in the shower or in the bath, so it's important to know how to use the x30 in both scenarios to cover all of your bases.
Using the Hydromax x30 in the Shower
Do you prefer showers over taking a bath? If so, you can use the Hydromax x30 in the shower using these simple steps:
Insert the comfort pad
Lock the latch valve in place
Place penis inside of the pump up against the pelvic seat
Fill with water
Press, and continue pressing, the pressure valve while filling
Form a tight seal after placing your penis in the pump
Pump the pump, water will start leaving the valve, and repeat every 5 minutes
The goal of using the Hydromax x30 is to follow the steps above 2 – 3 times. You'll need to release the valve after five minutes or so and repeat.
Using the Hydromax x30 in the Bathtub
Using your pump in the bathtub is not much different from using it in the shower. You'll simply fill the pump and follow the advice in the shower directions.
Now, a lot of users claim that they find it more comfortable to stay in warm water or a warm shower for 5 minutes or so to "warm up." You'll perform this routine to loosen everything up, and once you've done that, you can follow the directions outlined above.
BathMate Routine:  How Often Should You Use It?
That's a great question.
The company recommends using Bathmate for no longer than 15-minutes at a time, once per day. If you can follow this recommendation, that means you'll be well on your way to sustained, natural growth.
But there's also a catch.
You'll need to release the valve two to three times and repeat the process every five minutes. Following this routine is recommended because it's the sure-fire way to ensure that there's enough pressure inside of the penis pump to provide you with results.
Don't expect this device to be a overnight miracle.  You need to do it multiple times per week to see serious results.  Slow and steady is the key to long term results with any PE device.
A lot of users will notice an immediate increase in girth and length from their first session on, but this will dissipate over the next 2 to 3 hours. The key factor is swelling, and this swelling will make you look bigger.  For some guys, that is enough to keep them consistently training for months.
It's definitely an immediate boost, but don't expect the initial gains to be permanent. You need to use the x30 over the long-term to experience the permanent results you're seeking.
I recommend daily usage, but if you miss a day or two, it's not a big deal.
You'll want to use your pump at least 4 – 5 times per week to see results.
Speaking of Results: Here's What You Can Expect
Massive penis girth gains. Here is our guide to the Bathmate Girth Blaster Routine. 
Consistent use is required, but you can experience the following:
30% girth increase on average
5″ increase in 1 – 3 months
Increased sexual stamina
What's really nice is that your length will continue to improve well beyond this 0.5″ range. A lot of users claim that they've been able to experience several inches (2″ – 3″) in improvement in their penile length.
But the results do vary.
The great news is that once you reach your goal, you'll only need to use your pump once or twice a week to maintain your gains – it's that simple.
Pro Tip:  Combine your Bathmate routine with a legit penile traction device (We recommend the Power-J-Gym for this).  This is the best of both worlds as the water pump technique increases blood flow and girth immediately and then the stretching from your traction device gradually keeps pressure on and this enhances your growth.
How Does the Hydromax x30 Work Anyhow?

I've covered how to use this hydro pump, but how does it actually help your penis grow? The growth you're experiencing is through the vacuum seal that's created between the pelvic bone and the penis.
This seal causes pressure to build up inside of the tube to force blood into the head of the penis.
And when this happens, your penis is forced to maintain a strong erection that stretches the penis tissue over time. The blood vessels, which fill when you have an erection, will start to expand over long-term use, and as the vessels heal, this leads to a longer, thicker penis.
Through the stretch and repair process, cells will divide in the penis and force it to grow bigger over time.
It's the process of cell division, and it works much like the body does when lifting weights. You'll start to notice positive gains over time, and these gains are very evident after the first three months of use.
Keep at it, and remain dedicated to the process, and you'll start to experience positive penis growth in the process.
Hydromax x30 FAQ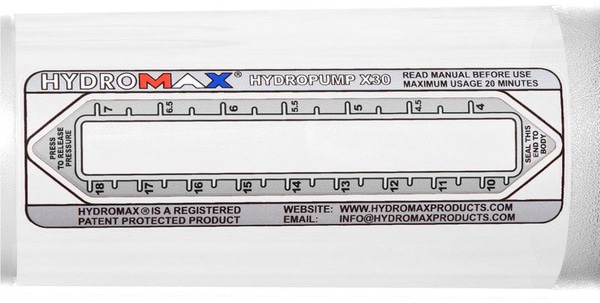 Wondering how long it will take to see results? Want to know what your length will be a half year from now? All of these are great questions.
A few answers to the many questions that you have are:
When will I start to see results? The effects will be immediate, but keep in mind that this is short-lived. Real results start to be experienced after 3 months or so of usage.
How much length can I gain in six months? If you're dedicated and start using your pump for six months, you'll find that the average gain, according to a study that followed 22 men over a six-month period, was 1.77 inches in length.
How much girth can I expect in six months? Want a thicker penis? Well, the same study found that the average man was able to experience a 0.83-inch increase in their girth in just six months. That's a significant gain.
Are the results permanent? Yes, but you need to use the device for three months to keep some of your results. And if you can use your pump for six or more months, you'll be able to keep more of your gains. A lot of users choose to continue on a maintenance program where they use the pump once or twice per week just to maintain their results. That's not too much effort, and it's worth it to keep your penis length and girth.
Where to Buy the Hydromax x30
Penis enlargement is personal, and I don't recommend buying this product from anyone but HydroMax USA.

Direct from the manufacturer, you'll receive the following when ordering direct:
Best prices in the industry
Leading warranty
Discreet shipping
You'll be ordering with confidence, knowing that you are buying from the source. You'll also have direct access to customer service.
And with a 2-year warranty, if anything goes wrong with the x30, you'll be able to return it for a replacement or refund.
But what happens if you completely hate the pump?
Well, you have a 60-day money-back guarantee…

If you don't like the device or feel like you've been misled somehow, you can return your Hydromax x30 for a complete money-back return.
It's really an ironclad deal.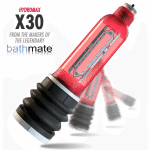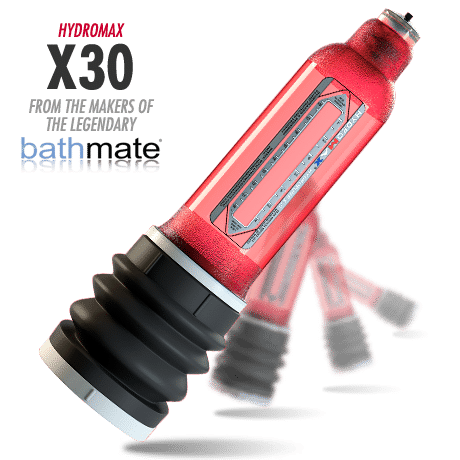 Bathmate HydroMax x30 Rating
Final Verdict
If you are into a quick win, this should be your choice. The almost instant size increase is addicting but keep in mind you should be consistent and ideally use another extender to maximize your results.