Penile Enlargement Surgery
Penis enlargement surgery is a viable option for men with small penises, erectile dysfunction or curved penises. It is a big leap in faith to get to the point where you are willing to go under the knife to improve you size because there are also a lot of risks and costs that make surgery a scary option for even the biggest risk-taker.
Before you get serious about surgery, be sure you have researched the many options you have for your "size concerns". In 2017, there are a a variety of medically viable options available to help you increase the length and girth of the manhood, including:
Medical Extenders
Jelqing
Pumps
And, of course, the aforementioned penile surgery.
What is Penis Enlargement Surgery?
Obviously, the goal of any form of penis enlargement surgery is to make the penis larger.
In terms of larger, there are two forms of growth that a person can expect when they go to the doctor and choose surgery over other alternative methods:
– Length: The length of the penis can be extended. This is the length from the shaft of the penis to the head.
– Girth: Girth is the circumference of the penis at the thickest part of the penis. Many women state that they prefer a larger girth than length because the girth provides a better overall feel.
It's impossible to define penis enlargement surgery because there are a variety of surgery types that can be performed to provide the desired results. You need to know the types of surgeries available before even thinking about the risks involved.
What Are The Different Types of Penile Enlargement Surgery?
Suspensory Ligament Detachment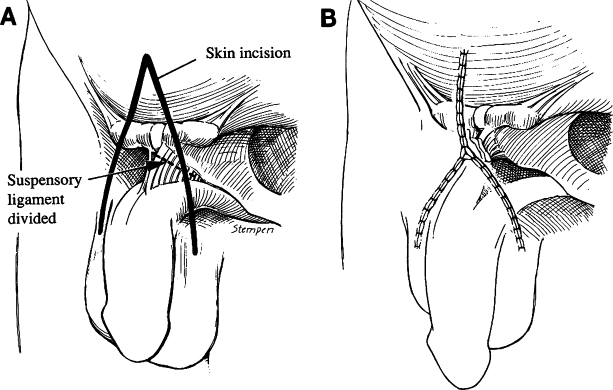 One form of surgery is the detachment of the suspensory ligament.
This is the ligament that connects the penis to the pubic bone. When this occurs, a person will extend their penis naturally. Studies show that a third of the penis isn't extended from the body.
Cutting the ligament causes the penis to advance forward.
When considering this surgery, you'll want to know that:
General anesthesia is required
Outpatient surgery options are available
Claims of 2″ gains in the flaccid state are made
Studies claim the average gain is just 1″ or less
Erect penile size doesn't change
This procedure is often recommended by surgeons, but it's not been shown to be safe or effective. I wouldn't recommend trying this procedure because it doesn't help to extend the erect penis, meaning it won't boost the pleasure of intercourse.
Skin Flaps

Skin flaps can be taken from the pubic region and added to the penis to expand girth. This is a quick and easy method used for girth enhancement, but it's a high risk option because the side effects can be severe.
While a person may not reject their own skin, they may suffer from:
Underside hair growth
Scarring
Deformity
This is a risk I'm not willing to take.
Scarring and deformity are life-long issues, and even if they can be corrected with surgery, it's not worth the risk.
Free Fat Transfer (FTT)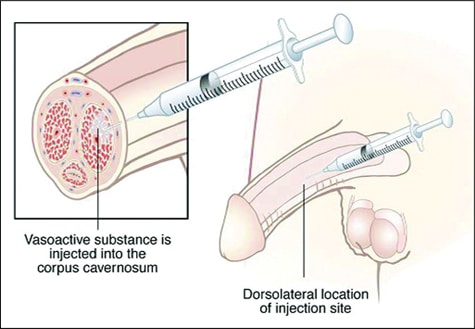 Free fat transfer is a harvesting technique that's been shown to work well, but clinical studies have yet to deem this method "safe."
This method of enhancement is quite common, and it works by taking fat from other areas of the body and injecting the fat into the penile shaft.
While the penis will remain the same shape and length, the fat injections into the shaft will add to the circumference of the penis.
A few must-know facts about FFT are:
FFT is ideal for girth enhancement
Circumference increase is 50% or more on average
Two procedures may be needed
The second procedure is 3 months after the first
Flaccid and erect increases are experienced
The body can absorb the fat cells
So, if you're a who that wants to have a bigger girth, this may be a viable option to pursue.
Grafts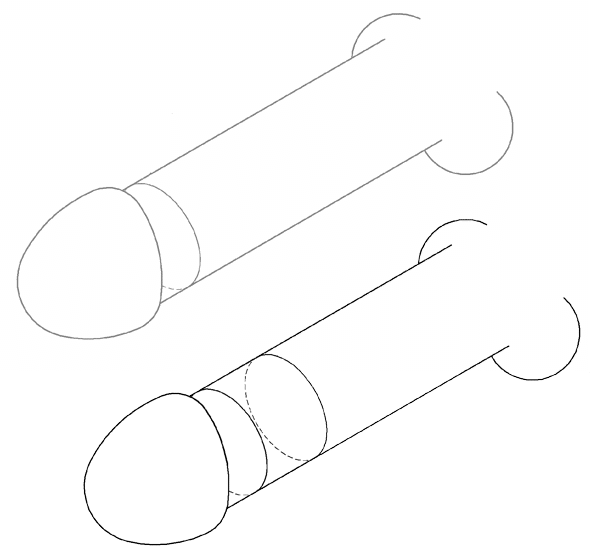 Skin graft surgery is possible for penile enhancement.
This form of surgery is also known as AlloDerm, and it involves taking tissue grafts from cadavers. While some doctors overseas will perform this surgery, it's not approved for penile enhancement.
The FDA has approved AlloDerm, but not for penis enhancement or as a void filler.
Manufacturers of AlloDerm don't recommend this product for penile enhancement either.
This method involves rolling the skin grafts around the penis shaft to help expand the girth of the penis.
You'll want to pursue this method of enhancement with the utmost caution.
Penile Implants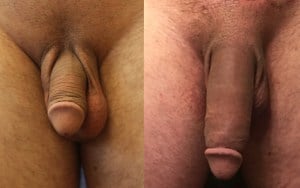 The most effective form of penis enlargement surgery is penile implants.
You may have read Dr. Elist penile implant reviews before – the results are impressive. What the famous doctor states is that penile enlargement has a 95% success rate.
But, a 5% failure rate is too much of a risk for me. Let that set in for a minute…

Results are permanent, and this is a a method based on decades of research and development.
Penuma implants results include:
– Penis length increases
– Penis girth increases
– Progressive growth
– Possible further improvement
A person suffering from a serious health condition may not be a good candidate for implants. When implants are placed in the penis, the person has more options to dictate their growth and hopefully see permanent results.
Let us point out the elephant in the room- pricing. While a great method of enhancement, surgery is expensive.
Anyone who has had prior surgical procedures performed on their penis to spur growth will need to consult with their potential surgeon to ensure that they're a good candidate for the surgery.
There are people who aren't the ideal candidate for surgery.
A few facts about this procedure are:
– General anesthesia is used

– The procedure lasts 45 – 60 minutes

– Discomfort is controlled with pain meds

– Swelling will last for 2 weeks

– Erections will hurt for the first 2 weeks

– Immediate girth is experienced

– Erect length gains are most prominent 6 – 8 months after surgery
Different forms of penile implants may take longer or have different recovery times.
Male Enhancement Surgery Statistics
I encourage you to discuss statistics with your potential surgeon to see what he or she has been able to achieve. The results can vary greatly from one doctor to another, so it's essential that you ask your doctor what you can expect.
Luckily, I've been able to dig up a few statistics on male enhancement surgery for you:
2017/04+ Success rates are 95% by a top surgeon
2017/04+ Average surgery time is 1 – 2 hours
2017/04+ 1 in 5 enlargement surgeries are in Germany
2017/04+ 15,414 men had penis enlargement surgery in 2013
2017/04+ Penile enlargement accounts for the smallest number of plastic surgeries
2017/04+ Length gains are between 0.5″ and 1.5″ on average
2017/04+ Penuma, performed by Dr. Elist, produces 2″ – 2.5″ gains in length and girth
There has been a major uptick in penis enlargement surgeries around the world. You'll find that there are far fewer penile enlargement implants in the United States than in South American countries.
And Germany has 8 in 100,000 men having enlargement surgery.
There were less than 70 enlargement surgeries for men in the U.S. listed in 2013.
How Much Does Penis Enlargement Surgery Cost?
You know what's interesting to me? People are willing to undergo phalloplasty surgery with high risks and costs involved.
What is phalloplasty surgery?
Phalloplasty is the scientific term for penis enlargement surgery.
People make excuses not to pay for healthier food, gym memberships or even a new car. But, people are willing to spend thousands of dollars on a surgery that has the potential to make their penis bigger.
Don't misunderstand me: 95% success is great.
But what happens to the 5% of failed penile surgeries? Deformation, pain and the inability to get an erection are just some of the horror stories people talk about.
Imagine paying thousands of dollars, achieving a bigger penis size and not being able to get erect to have intercourse. This is a travesty
So, how much does penile enlargement cost?
Every surgeon will charge their own rates, so getting exact figures on the cost of enlargement can be near impossible. But, we do have some statistics available that give a general idea of how much it costs to enhance your penis:
– Silicone penis implants can cost as much as $13,000
– Suspensory ligament detachment costs $4,000 – $7,000 on average
– Girth augmentation costs $1,900 – $2,500
So, depending on the surgery you have, the cost can be $1,900 – $13,000+.
This is a heck of a lot more expensive than a medical penile extender, which costs just a few hundred dollars and doesn't pose the risk of causing permanent penile damage.
It's hard to contemplate paying this much money when the results are normally similar to an extender. That is why I stress that you owe it to yourself to go for natural male enhancement before moving forward with any type of surgery.
Risks and Side Effects of Penile Enlargement Surgery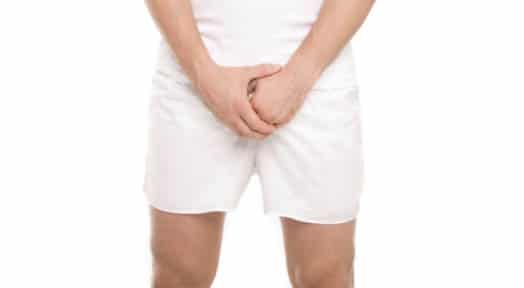 Every surgical procedure has its own risks. When you plan to have enlargement surgery, you'll need to discuss your options with your doctor to ensure that you choose an option that's most safe and best suited to your condition.
With that in mind, anytime you have surgery, there are risks.
A few of the most common risks are:
#1 Appearance. Penile injections can make the appearance of the penis look odd. The body may also absorb the fat, causing the penis to go back to its normal size. This is not a permanent method of penis enhancement.
#2 False Hope. Ligament cutting only extends the length of the flaccid penis. When a man is erect, his penis will be the same length. In effect, the surgery is all about appearance and not performance.
Some men complain of:
– Difficulty getting erections
– No growth gains
– Loss of feeling in the penis
– Implants can cause a variety of issues. Pain and complications can occur as well as bruising and bleeding. Internal blisters are common, too.
Infections are also a real possibility. A person that undergoes surgery can suffer from penile infections. This will require a dose of antibiotics. If your body rejects the implant, you may have to have the implant removed. And yes there are several reported cases of this tragedy. I am sure you heard the news lately were a patient that had his implant rejected ended up stalking and attacking the nurse that was in charge during his procedure.
Incisions in the penis need to be made in severe cases of infection.
Other major concerns of male enhancement surgery also include:
– Loss of feeling
– Loss of the ability to get an erection
– Deformity
If deformity or loss of an erection occur, there may be no reversing of the procedure. A male will need to undergo additional surgeries in an effort to correct the problem. The good thing about enhancement surgery is that complications due to surgery are often covered under a person's health insurance.
But the initial surgery is not covered by health insurance unless the surgery is deemed necessary and is related to a health condition.
Men, before you plunk down the money to have surgery, you need to ask yourself one question: is it worth the risk?
I wouldn't risk surgery when there are other options available. Specifically, I urge you to exhaust those options before you get to the point of seriously considering going in for surgery.
Penile Enlargement Surgery Before and After Results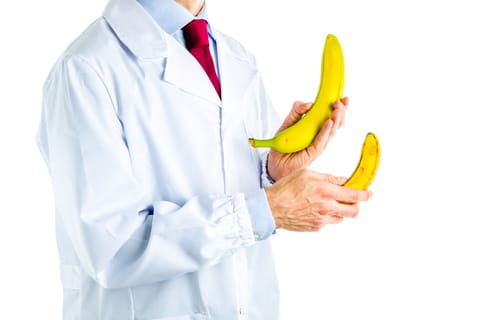 Before and after results are far more impressive with implant surgery than any other form of surgery listed. As we mentioned before, skin grafts or fat filling can result in no gains at all – you'll pay even if your penis size remains the same.
Results that are most common are:
2017/04+ 5″ to 1.5″ penis length gains
2017/04+ 2″ to 2.5″ gains with implants
2017/04+ 3% risk of infection with implants
2017/04+ 95% success rate for implants
You can look up before and after pictures online to compare the different types of penis augmentation.
Which Surgeons Are Best?
German doctors boast the highest length gains. Statistics provided by the German Centre of Urology & Phalloplasty Surgery boasts that when comparing results of 6,000 surgeries, the results are:
2017/04+ 4″ length gains
2017/04+ 2″ girth gains
Also, remember that doctors will not display pictures of times when they failed to produce results for their clients. You'll never see a doctor displaying pictures of when a man has his penis infected from enhancement surgery if they hope to bring in new clients.
Lets not fool ourselves here. There are risks associated with having any form of dick surgery.
And you need to judge the risks for yourself to see how far you're willing to go to have a larger penis.
Risks vs Rewards
The risks of penile enlargement surgery are severe. The most common risks associated with enhancement surgery are:
2017/04- Infection
2017/04- Loss of feeling
2017/04- Inability to get an erection
2017/04- Deformity
And the rewards? A larger penis.
Some surgeries are also cosmetic in nature where the penis looks larger, but when it's erect, the penis remains the same size as before surgery. No one is able to perform in the bedroom with a flaccid penis, so the only lengthening that matters is when the man is erect.
Otherwise, you may look bigger, but it will have zero impact in the bedroom.
The risk versus reward is too much for most people. You'll pay a lot for a surgery that will always come with risks. You may experience positive growth, but you may also have to live with the inability to get an erection, which is far worse than dealing with a small penis.   On the other hand, surgery could be a miracle and a lot of men are very happy that they went the surgical route.
In the end, when there are other options available to you, it doesn't make sense to go with the riskiest route first.
You can decide to enhance the size of your penis today with a medical grade extender without the risk of deformity, infection, or losing feeling or the ability to get an erection.   If the results are not up to your liking, you can always opt for a surgical procedure later.